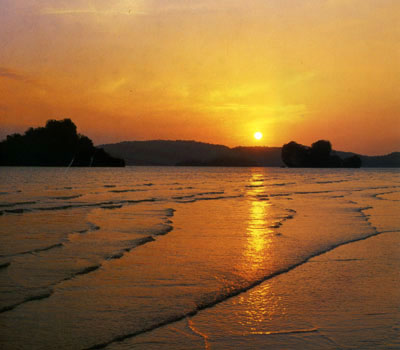 With the Disappearing Sun over the Ripples on the Beach
A sand beach stretching almost 3 kilometers from a small hill slope on the other side of Ao Nang, flowing from the mountains in the North to empty at the beachhead. The beach is of supreme beauty at sunset with sand dune that links the islands to the beach at the lowest ebb. This is mentioned as the most beautiful sunset over the ripples on the beach inKrabiProvince.
La millor hora per visitar : Finals de novembre a abril
El millor moment del dia : 18.00 a 19.00 hrs.
Com arribar : FromKrabiTown, take Highway No. 4034 to Ban Chong Phli, and turn left into Highway No. 4202 up to the beach, making up an entire distance of 17 kilometers.