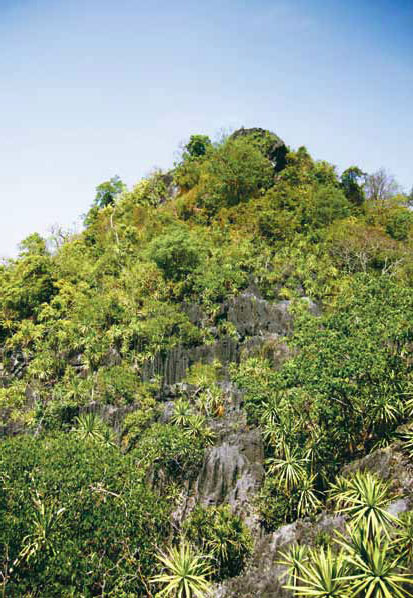 A geological feast
PHRAE PROVINCE. Doi Pha Klong National Park kan ikke være den grønneste sted at besøge. De, der gør, vil ikke være beskyttet mod solen af ​​en frodig baldakin, og deres hud bliver klistret mod fugt. The geography here is comprised mostly of limestone and dry evergreen forests of thorny trees with small leaves. They combine to create a curiously beautiful landscape, the charm of Doi Pha Klong.
On arrival at the park headquarters, especially in the early morning or late afternoon, visitors will be greeted by a cacophony of bird calls. There is a 1.2-km nature trail along which to explore the flora and fauna of the dry evergreen forest. The beginning of the trail, paved with concrete blocks, boasts oddly, but naturally, sculpted trees with entangling vines. Along the trail as a whole, the most predominant plant species is the firework-shaped Dracaena sp.
Although the trail is short, trekkers are mercilessly exposed to the sun. Det
informative and friendly rangers therefore warn visitors to take lots of water
before setting out on the trek. The climb can be tough at some points, with
sharp-edged rocks, but the path is well-defined, including intervals of wooden steps. After a good measure of sweating, one finally arrives at Hin Pakarang, a large, wondrously-shaped limestone hill peppered with bright green shrubs.
The Park encompasses an area of 125 km2, covering a diverse range of
geography and activities. About 60 km from the headquarters lies Kaeng
Luang, a series of rapids in the Yom River. These provide a 10-km
rafting route, though the river is best experienced in November or December.
Visitors can also stop over at Erawan Cave to enjoy the stalagmites and
stalactites, including those resembling a mythical three-headed elephant,
from which the cave takes its name. Opportunities also exist to rappel down
a 70-m cliff. To arrange an adventure trip, contact the Park headquarters