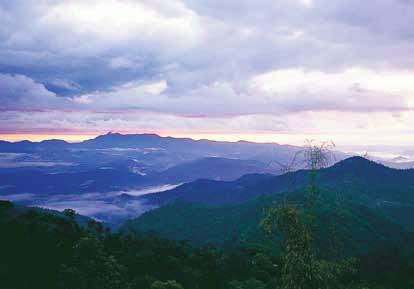 The guardian spirits of Chiang
CHIANG MAI PROVINCE. Chiang Dao was in the media
limelight during 2003, when the government came up with
a plan to builzd a cable car to the peak to boost tourism. The proposal
met with unprecedented and widespread protest from both locals and
environmental activists. Ευτυχώς, the plan was not carried out.
Doi Chiang Dao (under the Chiang Dao Wildlife Sanctuary's care) is
the third highest peak, and the only place where a sub-alpine
ecosystem can be found in Thailand. Its height is 2,225 m above
sea level, making a dramatic rise on the horizon when viewed on
entering the district by Highway 107. The horseshoe-shaped
mountain range of which it forms a part is home to more than
340 species of wildlife, of which some 206 are birds, including the
near-extinct Hume's Pheasant (Symaticus humiae, found only
here and in Pai). It is also the only home in the world to the newly
discovered orchid Sirindhornia pulchella, as well as approximately
110 other orchid species.
Doi Chiang Dao also holds spiritual significance for the people
of Chiang Mai. The mountain is believed to be the abode of Chao
Luang Kham Daeng, the spirit revered by all spirits and ghosts. There
are two routes to get to the peak of Doi Luang Chiang Dao – the Pang
Wua trail and the Den Ya Khat trail.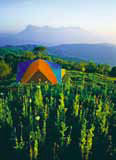 The Mountain of the Gods
The starting points of the two trailsare about 30 minutes and 1 hour away from the headquarters, respectively. There are camping sites on both trails, but the second one is longer, steeper, and thus more adventurous. The two trails converge mid-hill, and four more hours of walking will lead to Mae Salung, the last camping site before the top. From the Mae Salung camping site, a final 45-minute climb (225 m of rocky, limestone trail) is required to get to the windy top, where there is no water source but plenty of wildflowers.
Trekkers normally spend two nights before following the downward
trail back to the headquarters, and must provide their own tents, food,
and water for the whole trip.

It must be emphasised that Chiang Dao Wildlife Sanctuary is devoted
strictly to conservation; tourism is second on the agenda. That is
why the Sanctuary is open for trekking only from 1st November
to 31st March, and is suitable only for highly-devoted nature
enthusiasts. For others still wanting to get a glimpse of its glory, there
is a 2-km nature trail, at the foot of the mountain, accessible all year
round. No guide is needed, but during the rainy season, the path is
often concealed by tall grass.