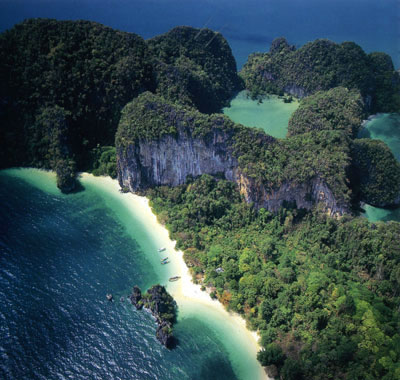 Featuring One of Ten Most Enjoyable

and Cleanest Beaches of the World
HongIslandis the largest isle in the outcrops. It is resplendent with pure white sand beach in a semicircle, surrounded by limestone hills in crescent shape, making up a private beach sought after by vacationers around the world. To the North of the isle is the enclosure called Pileh orInnerSea, a premier site for kayaking and snorkeling. The isle has been selected as one of the ten most enjoyable and cleanest beaches in the world.
Best time to visit : Late November to April
Best period of the day : 18.00 to 15.00 hrs.
How to get there : Boats can be boarded at Ao Nang, Mueang District, or Laemsak or Khuan O Boat Landings in Ao Luk District. The trip takes 1 hours respectively. Boats can be hired at 2,500 – 3,500 baht a day.