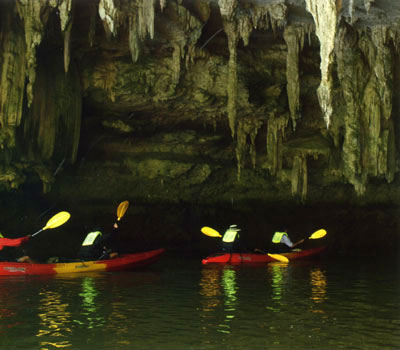 The Superb Canoeing Experience through Krabi Sea Caves
Tham Lod Nuea, Tham Lod Tai, in Ao Luk District, Krabi Province, are regarded as the group of the most beautiful sea caves ever discovered in Krabi, with fantastic features formed by stalactites and stalagmites which allow adventurers to steer their canoes through meandering passages in an exciting atmosphere. It is certainly the most beautiful canoeing route through the mangroveforestofKrabi.
Paras aika vierailla : Late November to January
Best aikaan päivästä : Morning and afternoon with no intense heat
Miten sinne pääsee: The distance from Ao Luk lntersection to Ban Tham Suea is 5 kilometriä, with signs pointing to 2 piers, Bo Tho and Ton Kham, both at about 2 kilometrin edelleen. Canoeing can be taken from both piers, but the distamce from Ton Kham Pier is greater.