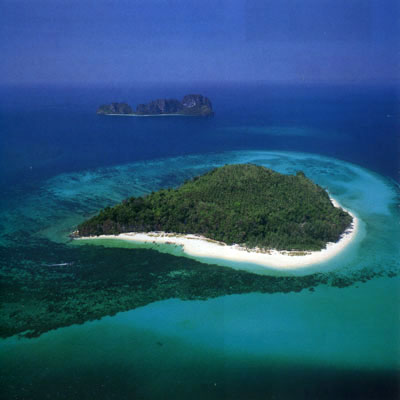 Miraculous View of a fried-Egg Island in the Andaman Sea that Really Exists
A fantastic island in the shape of a fried egg. Surrounded by white sand beaches and floating in a deep blue lagoon, comprisingPhaiIslandin the middle, with the steep rock cliff ofYungIslandto the West, and the bed of rocks in shallow blue water to the South forming a rich coral reef with diverse types of live corals. Looking from the air,PhaiIslandis prominent as a perfect fried egg.
De beste tijd om te bezoeken : December to January, on the day of clear sky with no haze
Beste periode van de dag : 10.00 naar 14.00 hrs.
Hoe kom ik daar : Helicopters on hire are available fromPhuketInternationalAirport
For Addition Details, Can be obtained at Skydance Helicopters Tel. 08-178-2700