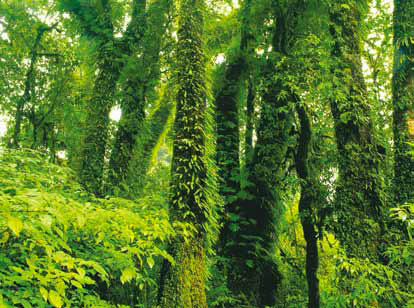 The rooftop of Thailand
CHIANG MAI PROVINCE. Here are a few of the many reasons
why one should visit Doi Inthanon National Park: the eponymous
peak is the highest in Thailand; the Park includes 1,274 plant
species, 90 of which are orchids (31 of which are found uniquely
there); and the area is home to 466 animal species, 385 of those
being birds (including the Green-tailed Sunbird).
Besides being rich in floral and faunal life, the Park is dotted with
a number of waterfalls of various sizes.
Doi Inthanon has something for everyone, whether day-trippers
or those planning to thoroughly explore the Park. The day might
be filled with a visit to the highest point in Thailand, which can
be reached by car, and is clouded with mist all year round, the
temperature never exceeding 17º C. This may be followed with a
30-minute walk along the nearby Ang Ka nature trail. The neat,
elevated wooden platform with railings leads through the moss
covered forest, where mixed plant-societies on single trees can
be observed.
Toward the end of the trail, there is a path leading to the shrine
of Chao Krom Kiat. The small spirit pavilion is built on a piece
of helicopter wreckage as a memorial to Air Chief Marshal Kiat
Mangkhlapruek and the late national park director who died on
duty in a crash at that spot in May 1971.
The rest of the day might be spent touring the waterfalls. The most
enchanting are Wachirathan, Mae Klang, and Mae Ya. These
falls are easy to access by car, with trails leading up to different
levels. Picnic areas and restaurants are available. The first two falls
are on the same road after the first checkpoint; only Mae Ya stands
alone south of the main national park area, on the 14 km road
that branches off Highway 1009 and meanders through a
residential area.

A Whole Day Trekking
Doi Inthanon also offers an array of treks. Most treks run all year round, and only a few routes require a ranger or local guide (contact National Park Headquarters at Km. 31 for information and arrangements). One of the most interesting routes is the Kio Mae Pan trail, which is open only from 1 June to 31 October, as its fragile ecosystem needs more time to recover than most. The distance of this circular trek is only 3 km, but discerning trekkers may take a whole day to complete it.

Bird lovers should not forget to pack binoculars, and should try to
visit between October and March. If an English speaking guide is
required, just cross the street from the Park Headquarters to the
Inthanon Bird Centre. The Centre has been there since 1962; its
customer service attested to by walls lined with name cards from
satisfied clients.