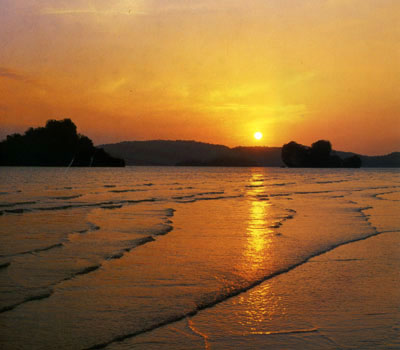 With the Disappearing Sun over the Ripples on the Beach
A sand beach stretching almost 3 kilometer från en liten sluttning på den andra sidan av Ao Nang, flyter från bergen i norr att tömma på brohuvud. The beach is of supreme beauty at sunset with sand dune that links the islands to the beach at the lowest ebb. This is mentioned as the most beautiful sunset over the ripples on the beach inKrabiProvince.
Bästa tiden att besöka : Sen nov-Apr
Bästa period av dagen : 18.00 till 19.00 H.
Hur man kommer dit : FromKrabiTown, take Highway No. 4034 to Ban Chong Phli, and turn left into Highway No. 4202 up to the beach, making up an entire distance of 17 kilometer.