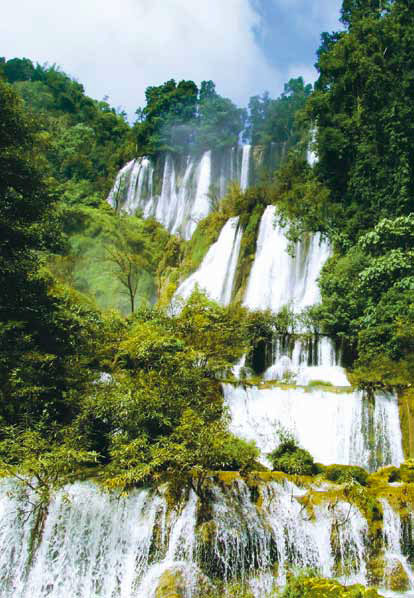 Skrytý obří
TAK PROVINCE. Víkend na Thi Lo Su může přijedete
home vyčerpaný energie, ale s piloty z nejpozoruhodnějších fotografií a
zábavné vzpomínky.

Návštěvníci musí ocel se již od samého počátku. Dále jen 'Sky Highway
1090'větry z Mae Sot na Umphang přes hornaté oblasti
obývané horských kmenů. To je 1,219 ostré křivky, kličkoval přes
bujný, zalesněné krajiny, jste žaludek mnoho žaludky. po čtyřech
hodiny, návštěvníci dorazí v Umphang, je největší okres v Thajsku,
sdílení 180 km hranice s Myanmar. Kdysi se osídlena výhradně
lidmi Karen, Před Thais pohybující se od severu. Nyní, to
je rozbočovač ubytovacích a touroperátorů organizování výletů do
Majestátní Thi Lo Su Waterfall.

Thi Lo Su je krásný v jejích mnoha podobách. Během období dešťů,
Návštěvníci budou ohromeni při pohledu na nekonečné řadě mocné vody
hroutit 300 m na skály dole. V období sucha, the
obrovský vodopád překlenutí 500 m promění v mnoha malých kaskád
odděleny mossed kameny a stromy, takže se zdá, jako
mozaika zelených zahrad.

Thi Lo Su je hvězdou Wildlife Sanctuary, ale její sestra vodopád,
Thi Lo Cho, by neměla chybět. Chcete-li plně prozkoumat okolí, třídenní
Tour je doporučeno. Typický program bude spojovat rafting na
Meklong River; Návštěvy Thi Lo Su a Thi Lo Cho Falls; některé trekking;
a, na požádání, pobyty v Karen vesnicích, a celkové lesní ponoření
via slon zpět. Však, je třeba poznamenat, že pravděpodobnost
svědky velkých zvířat během některé z těchto aktivit je nízká. Taky, trekkers
by mělo přinést repelenty proti hmyzu a léky proti malárii