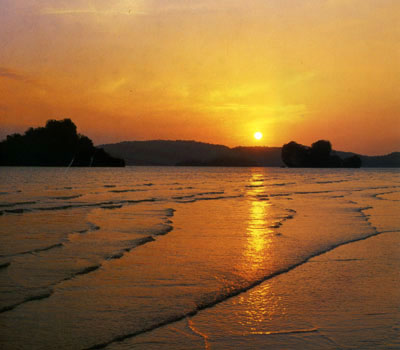 With the Disappearing Sun over the Ripples on the Beach
A sand beach stretching almost 3 chilometri da un piccolo pendio della collina sul lato opposto di Ao Nang, che scorre dalle montagne del nord a vuoto al testa di ponte. The beach is of supreme beauty at sunset with sand dune that links the islands to the beach at the lowest ebb. This is mentioned as the most beautiful sunset over the ripples on the beach inKrabiProvince.
Periodo migliore per visitare : Tardo nov-Apr
Periodo migliore della giornata : 18.00 a 19.00 ore.
Come arrivare là : FromKrabiTown, take Highway No. 4034 to Ban Chong Phli, and turn left into Highway No. 4202 up to the beach, making up an entire distance of 17 chilometri.